---
Elastic Shock Cord (Bungee Cord)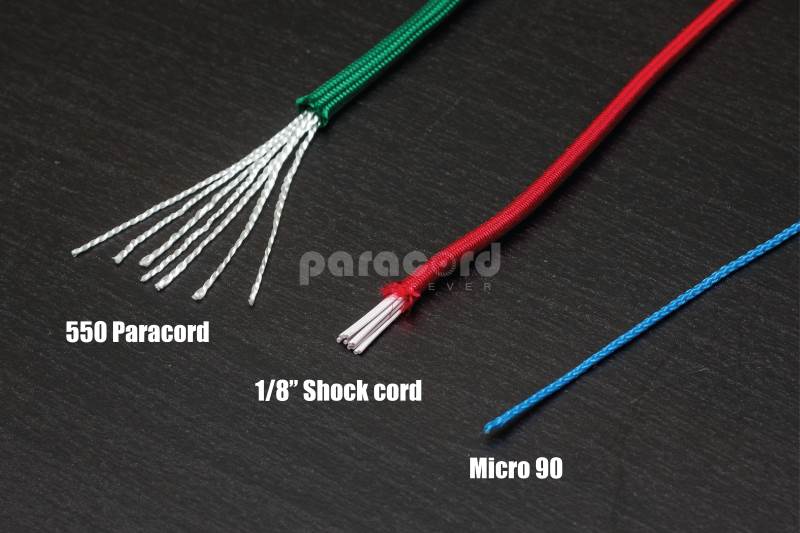 Shock Cord (A. K. A.

Bungee Cord, Elastic Cord)
Shock bungee cords are constructed by multiple thin elastic rubber cords within nylon outer jacket. Such construction allows cord elongation of up to 110% with constant recovery unstretched.
Shock cord can be used as the core of wrist bands or bracelets to make it stretchable to fit wrists of varying sizes.
Also great for projects that require tension and suspension such as shoe laces, hammock, bungee straps and cargo nets.
Perfect alternative of utility cord other than 550 paracord, keep bungee cord with you to prepare for emergency when traveling, outing, camping or simply for home improvement.
Also known as stretch cord, bungee rope, shock rope, bungie, elastic cord, stretchy cord, elasticated cord.
Product details
High Quality Elastic Nylon Shock Bungee Cord
Material: Nylon outer sheath with elastic rubber inner strands
Diameter: Approximately 1/8" or 3 mm
Breaking strength: Approximately 95 kg
Elongation: 90-110% (8 ft of shock cord can be stretched up to 15-17 ft)
Origin of product: USA
Mold, mildew, rot and UV resistant
---